In weather emergencies, a lack of Spanish-language information endangers the public
Weather officials, media recognize call; taking action
By Kay Nolan, May 30, 2021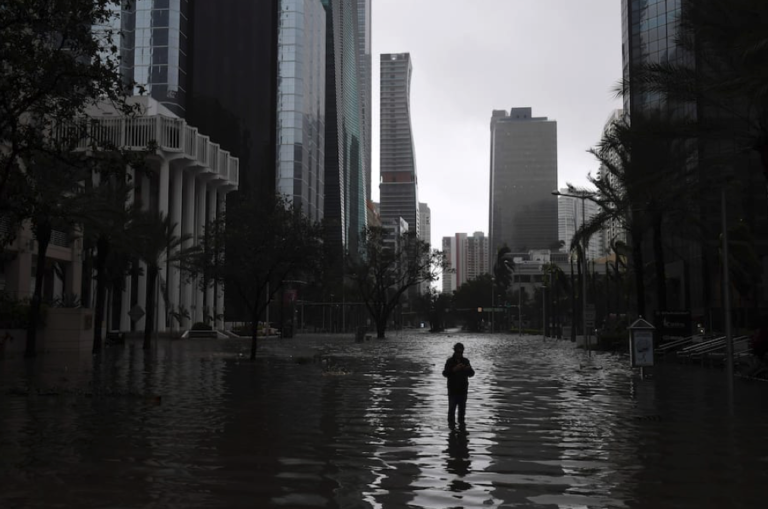 A man stands on a flooded Miami street in Hurricane Irma's wake on Sept. 10, 2017.
During extreme weather, the ability to receive storm warnings can save your life. But many non-English speakers in the United States have limited access to information about hazards as dangerous as tornadoes, hurricanes, wildfires and floods.
Emergency personnel, media broadcasters and weather forecasters have ramped up efforts to serve the Spanish-speaking population, but it's a work in progress.
An incident in 2013 exposed the danger of the lack of non-English severe weather
information. As a tornado moved through El Reno, Okla., a family of seven took refuge in a drainage ditch They were originally from Guatemala and warnings of the risk for severe flash flooding never reached the Spanish-speaking family. All drowned. A National Weather Service review concluded that a lack of Spanish-language communication was a factor in the tragedy.
Progress has since been made in providing emergency information in Spanish via mobile devices. The federal government's Wireless Emergency Alerts system, which transmits National Weather Service storm warnings, now supports Spanish text. (The ability to receive these alerts in Spanish is dependent on the wireless carrier and individual device settings.) Many local officials also post important weather information on social media platforms and have bilingual staff that respond to comments in Spanish.
Yet almost all official weather bulletins from the National Weather Service, as well as federal emergency alerts issued by FEMA via the Emergency Alert System, are sent out in English only, laying bare the considerable work which remains to fill the language gap.
Media professionals say television and radio reliably reach a large segment of the Spanish-speaking population and are critical platforms.