Women and minorities in weather and climate fields confront harassment, lack of inclusion
By Kay Nolan, Jan. 9, 2021 
Last year the Black Lives Matter movement that intensified with the high-profile deaths of George Floyd, Breonna Taylor and others led to heightened conversations nationwide around institutional discrimination against marginalized groups in workplaces, academia and government.
Women and minorities in the earth and atmospheric sciences were already on it.
They started their own "Me Too!" movement, pushing for action within the professional scientific societies that are key to giving scientists visibility and career-enhancing opportunities to publish papers, win awards and speak at conferences.
The American Geophysical Union (AGU) and the American Meteorological Society (AMS), among other prominent scientific organizations, began crafting policy statements, holding workshops and discussing tough new sanctions for unprofessional conduct and discrimination within their own memberships early last year.
"This is a climate we want to change," said Erika Marin-Spiotta, a geography professor at the University of Wisconsin-Madison, at the American Meteorological Society's 100th annual meeting, held last January in Boston.
The AMS, which has 12,000 members worldwide, includes meteorologists, atmospheric chemists and physicists, oceanographers and other scientists, as well as students and graduate students in those fields. This week, the AMS will convene again, this time virtually, and will host its second symposium on diversity, equity and inclusion. To kick  off the symposium, both early-career professionals and senior scientists are invited "to explore simple, creative ways to cultivate diverse voices, equity, and inclusion" in an interactive session.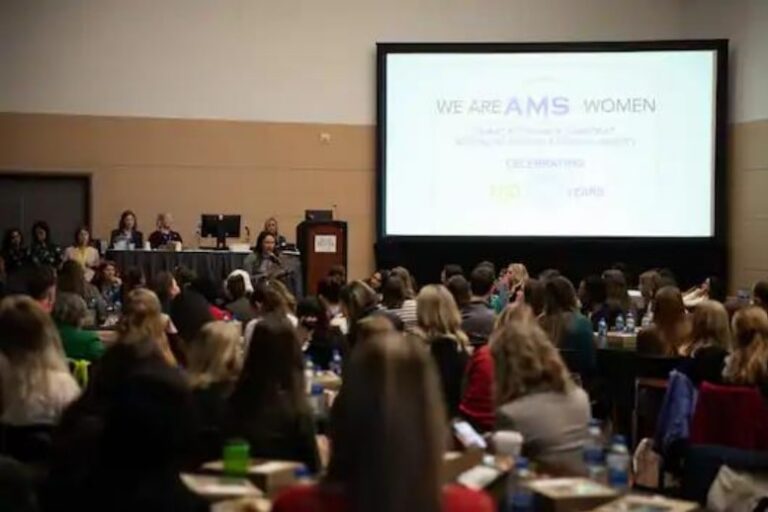 A large crowd attended the Women in Science luncheon at the American Meteorological Society meeting in Boston last year.
"Professional societies have the potential to be powerful drivers of change," said Billy M. Williams, senior vice president for ethics, diversity and inclusion for the AGU, which has 60,000 members in 137 countries.
A stunning consensus report in June 2018 by the National Academies of Sciences, Engineering and Medicine, which Williams helped produce, concluded that harassment against women and minorities is pervasive throughout the science fields.
By October 2018, the American Association for the Advancement of Science, one of the world's largest science organizations with 120,000 members, had published a procedure for revoking "fellows" honors from offenders with a known record of abuse. It has so far revoked two fellows.